Locally Grown in Holyoke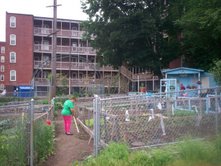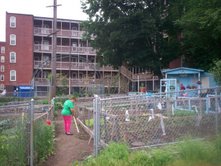 High quality, local, organic food does not have to be an expensive luxury item. Nestled between two apartment complexes in downtown Holyoke, a small stone statue welcomes visitors. Flowers – not yet in bloom – mark the perimeter of the roughly one-quarter acre plot of land. Inside, gardeners grow everything from rainbow chard to strawberries to ají dulce, a sweet pepper native to Latin America. A small blue house – reminiscent of the houses on the island of Puerto Rico – stands at one corner. A rich mural, painted by local youth, depicts the journey from Puerto Rico to the place these gardeners now call home. This land was once full of trash and a haven for drug dealers. It is now home to the Nuestras Raíces CuentaConMigo community garden.
Nuestras Raíces, "Our Roots," was founded in 1992 by members of the La Finquita community garden in South Holyoke. The original members sought to build a greenhouse in downtown Holyoke. The group has since expanded to include 11 community gardens with around 150 members, La Finca farm off of Main St. and leadership and training programs to teach area residents the importance of nutrition, health, and environmental sustainability.
"In the future, if we don't take care of the Earth, there will be no food at all," said Julia Rivera, Director of Community Organizing for Nuestras Raíces. Rivera is also the founder of the CuentaConMigo, "Count On Me," community garden.
All the gardens operated by Nuestras Raíces utilize organic fertilizers and compost. When a new garden is planned, and at the beginning of each growing season, the soil is tested by the UMass Extension Program. If the soil is not deemed viable for planting, raised bed methods are employed while continuing to organically alter the chemical makeup of the soil.
Raised bed farming practices are also used in instances where there is simply no open soil for planting. Rivera is currently working with the Holyoke Housing Authority to create more community gardens in the buildings H.H.A oversees, building on a successful collaboration at Lyman Terrace on Oliver St.
Plots at the community gardens cost $15 per season and include the use of equipment and water. Often, growers share plants, compost materials and fertilizers. According to Rivera, and the organization's Web site, an average family grows over $1,000 worth of organic produce a year, enabling them to save hundreds of dollars. The food is of a much higher quality than that available at local small groceries and bodegas.
Quality produce is not the only thing being grown at the gardens. They have become a gathering place for people to celebrate their Puerto Rican heritage and develop a strong sense of community.  "It looks a lot like Puerto Rico here," said Santos Romero, coordinator of CuentaConMigo. "We have a lot of fun."  La Finca, "The Farm," was started as a response to the success of the community gardens.  Gardeners wanted a chance to expand on the plots they already had and gain the knowledge to one day run their own farm operation. It started as a four-acre farm on the edge of the Connecticut River and has since grown 30 acres of fertile riverbed soil. The land is rented from the Sisters of Providence for "next to nothing," according to Program Specialist and VISTA volunteer, Amy Calandrella. Plots are rented to local farmers for $25 per quarter-acre per month. They offer a loan program to assist those without the money up front to rent the plots and provide the necessary tools, farm equipment irrigation, soil testing and training.
The barriers to beginning a farm operation are vast, said Calandrella. Capitol, resources, technological training and marketing experience and contacts are all necessary if a farm is to be profitable and sustainable. For recent immigrants and migrants from Puerto Rico, these barriers can be even harder to overcome. They face both discrimination and language barriers. La Finca has established contacts with farmers' markets in Holyoke, Springfield and Chicopee for the growers to sell their produce. They also operate an on-site farm store and provide produce for the nearby Dean Technical High School's salad bar. The site is home to Daniel Martinez's Paso Fino horse stable and a community petting zoo.
Volunteers are always welcome and encouraged at La Finca, 24 Jones Ferry Rd. The end of the season Harvest Festival, held September 26 this year, has drawn crowds of between 3,000-4,000 people, but extra hands are needed all season. One of the farm's main goals, said Calendella, is to address the root causes of poverty in an area where many residents live either at or below the poverty line.
"There is a high risk for food insecurity in the area," she said. "Many people don't have the time or the transportation to go to the grocery stores to buy food. We provide affordable and nutritious food to people who couldn't normally get it."  EBT and food stamps are accepted at the farm store and the farmers' markets. WIC vouchers are also accepted, two for one. This means a mother could redeem a voucher good for five tomatoes shipped from across the country at Stop and Shop, or redeem the same voucher for 10 organically, locally grown tomatoes at the farm stand or farmers' markets.
Great, healthy food does not need to and should not be a privilege only awarded to those who can afford to shop at expensive specialty stores. The model provided by Nuestras Raíces is proof that it does not have to be. With food insecurity a question on many people's minds, we all should seek to return to our roots.