Sustainability Pioneers go to Solarfest, VT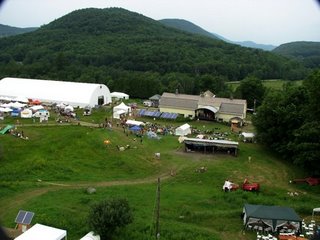 On July 10-12th a band of Pioneers from the Valley caravanned to the Northern territories of Tinmouth, Vermont to enjoy the music and performing arts renewable energy festival Solarfest. This unique event started in 1995 in Middletown Springs, VT at the result of a dream of one of the founders. It has since multiplied in size and attracts artists, vendors, activists and innovators who are dedicated to the celebration of renewable energy and sustainable alternatives.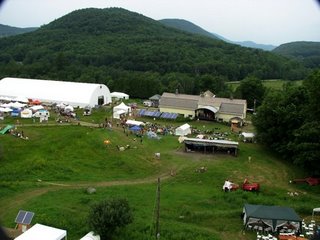 The weekend of sustainable workshops, performance, culture and food now convenes at Forget-Me-Not Farm, nestled in the green undulating Vermont-scape, away from the eye-sight of anything reminiscent of the pressures of real life. On that sloped meadow in Tinmouth, a convergence of more than 100 vehicles stops motor for the weekend, tents are popped and eyes are angled towards the arena and exhibitor area in the valley down below. Here commences some of the best education, relaxation and celebration of sustainable lifestyle to be found in the Northeast.
My crew consisted of a mixed group of carpoolers from local sustainable and green businesses and organizations, including representatives from Earth Thrives, ,Beyond Green Construction, Thermal Brothers and a few of our various associates, who came in separate transport. Rolling in the late afternoon on Friday, we unpacked our gear, set up our awning and our couch. As pioneers are bound to do, we split off as individual explorers to scope out the scene down below.
I almost immediately encountered fellow Valley Pioneer Janus Ternullo, founder and principle of Augustus Design and fellow Green Drinks attendee. "Green Drinks Northampton" is a socializing forum that happens the second Wednesday of every month at the Northampton Brewing Company, just after the Western Mass Green Consortium meeting wraps up. Janus also had a sweet campsite, with a tarp and tent for himself. We thought we were pretty cool for having a couch, but Janus had a floor!
Pioneer Pam Cargill, Marketing Coordinator for Alteris Renewables, Solarfest volunteer and self-named "Juice-Bar Interpretive Staff," gave the Beyond Green Construction and Earth Thrives crew an in-depth tour of the power source for the event. Aptly named Solarfest, the whole show is entirely off-grid with a total of six solar arrays and 10,000 lbs or 96 deep power batteries working in tandem to draw sunlight, bank power and feed into the grid when needed.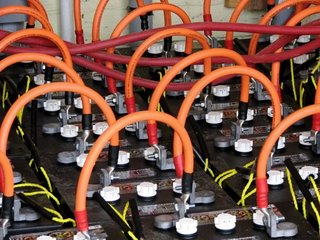 One of the arrays is a permanent feature of Forget-Me-Not Farm, and banks power year round in preparation for the weekend whence grazing meadows and barns become dancing, camping and loving centers for all ages and performance arenas for local and national musicians and artists. It is during this brief and intense time-span that Dark Star Lighting steps in to provide the entire light show for the weekend—a phenomenon that sends colored rays of renewably sourced (divine) light ricocheting off of the dark green hills until the late night hours. Dark Star Lighting has also invested heavily in LED lighting and low usage fixtures, conservation measures that enable the modest number of arrays to provide high impact theatrics for all the attendees.
Vendors offered up edibles that were locally sourced, nutritious and tasty, from groups like Sunweaver Solar's Solar Café, as well as high end renewable products like the silk skirts made from recycled vintage Indian sari's by EcoQuette. I do say—that 2pm quesadilla and smoothie combo from Sunweaver was a staple of my trip, despite the rampant grilling action taking place back at the site.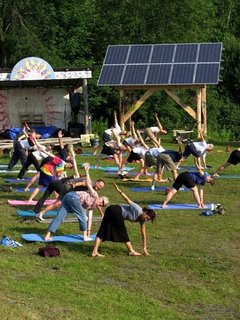 The workshops I attended on biochar, energy conservation in building design, edible wild plants and yoga for sustainability filled that final need for creative intellectual food at just the right level and at $45 for the weekend you can't beat it! But all in all, the level of relaxation and personal satisfaction that I attained at Solarfest was the crowning achievement of the weekend. My agenda consisted of mud-dancing, sun-burning, grass-laying, chilling-out and talking about earth and how we plan to improve our lives here. To be surrounded by such hard work, beautiful vision, valued intention, and careful planning about improving our lives on this planet—that is the truest recipe for our most idealistic dreams of peace love and harmony.
****Many Thanks to The Solarfest Facebook group for use of your images!