Students Learn about Climate Change Solutions And work with Greening Greenfield Energy Committee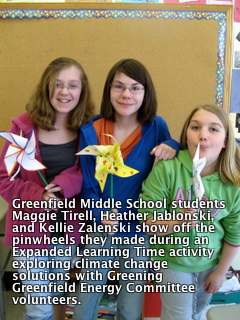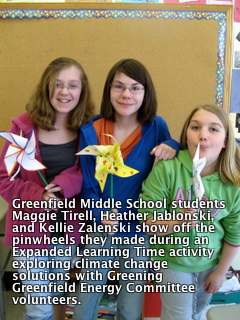 GREENFIELD, MA – Earlier this year a dozen middle school students worked with volunteers from the Greening Greenfield Energy Committee (GGEC) and learned about climate change solutions during the Expanded Learning Time program at the Greenfield Middle School. The students did hands-on experiments to better understand how global warming works, how to do more with less, and how to make energy that does not emit carbon dioxide, the major source of global warming and climate change.
"I am worried about global warming," said Kellie Zalenski, one of the 6th grade students. "This class was perfect. I now better understand how it works, and how I can make a difference." Even before the class started Kellie already used reusable bags when she went shopping, and she "rides her bike to school when the weather is good."
In the classroom, Stein Feick, environmental educator and retired middle school science teacher. And GGEC volunteers, Judy Draper and Carol Letson, and science teacher Missy Caloon assisted her. To better understand the greenhouse effect the students shone lights on two containers, one enclosed, the other open, and measured the temperature of the two containers over time. To understand the role that increased carbon dioxide emissions have on global warming, the students created carbon dioxide in one of two enclosed containers by mixing vinegar and baking soda and then they measured the temperature difference between the two containers. They learned that the enclosed container with CO2 got hotter faster!

In their exploration of solutions, the students used a "Kill-a-watt" meter to discover that a compact fluorescent light bulb (CFL) uses much less energy than an incandescent bulb.
To better understand the energy savings of turning off or unplugging appliances when they're not in use, the students also used the meter to measure the energy consumed by small appliances. They also examined the role that insulation plays in reducing heat loss by measuring the temperature of water in containers insulated with a variety of materials. The students played several games that helped them better understand what behaviors will help reduce energy use and climate change emissions.
"The students' favorite activities were making colorful pinwheels and using a solar oven sitting next to a snow bank to melt chocolate on graham crackers," said Stein Feick, GGEC team leader. "They also enjoyed experimenting with small photovoltaic (PV) panels to make the energy to light up light bulbs and make motors spin." 
"It was fun to get to know some young people in the schools," said Carol Letson, GGEC volunteer and retired Greenfield Community College librarian. "They really liked the hands-on activities, and fun competitive activities like guessing which insulation was going to be the most effective, and then finding out what worked best, or the 'green light red light game' where they had to recognize which actions were best for the environment."
The GGEC Expanded Learning Time program and partnership was made possible through a grant from Massachusetts 2020, whose mission is to expand educational and economic opportunities for children and families across Massachusetts, and to foster community partnerships in schools. Seeds of Solidarity, a non-profit organization in Orange, partnered with GGEC and took the lead on writing the grant.
"I believe that engaging young people in climate change solutions is the only way that we can address this crisis," said Nancy Hazard, co-chair of GGEC. "We learned a lot by working in the classroom, and we hope that we will not only be able to do more in the schools, but that the two key principles behind climate change solutions,– doing more with less and using zero carbon energy, — become key drivers of the Greenfield curriculum. I believe this approach could empower young people to take on the climate change challenge and shape the world they will live in."
The Greening Greenfield Energy Committee (GGEC) works with the Town of Greenfield with the goal of building a sustainable Greenfield so that current and future generations can enjoy life in this beautiful abundant valley. To find out more about how to get involved, join GGEC's Greenfield 10% Challenge and get a lawn sign, get a list of over 30 simple things you can do to reduce your energy costs, or sign up for a free utility energy audit, go to www.GreeningGreenfield.org or call 413-773-7004.