The Green Machine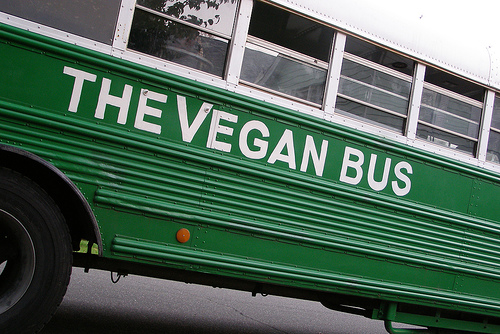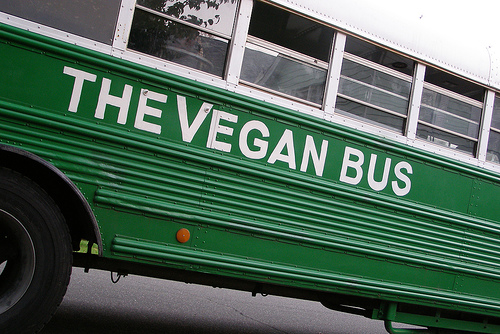 What happens when you combine a group of like-minded activist and artists, an old school bus, gallons of green paint and vegetable oil? It is either going to be one heck of a party or the Vegan Bus. Probably both.
The brain child of Derek Goodwin, the purpose of the bus is to "increase public awareness about the connections between dietary choice, personal health, cultural ethics, and globally sustainable ecology."
On Wednesday, July 29, Cafe Evolution, a vegan restaurant in Florence, hosted a fund raiser for the Vegan Bus. Goodwin estimated the bus costs around $10,000 a year to operate and was recently in need of new brakes and new brake lines. Mechanical problems on the day of the fund raiser meant the bus was unable to transport people from the Academy of Music in Northampton to the cafe, as was originally planed. The money raised will go to the upkeep and future repairs the bus will need for it and its passengers to continue their mission.
"We go around and light little sparks in people's minds to alternative ways of living," said Goodwin.
Veganism is not solely a dietary choice, according to Star Drooker, owner of Cafe Evolution. To him it is an ethical philosophy based on respect for other living creatures. For Goodwin, those ethics are also tied to environmental sustainability. If humans moved to a more plant-based diet, he argues, the environment would benefit greatly.
"Eating vegan one day a week causes less climate change than eating locally seven days a week," he said.
Dairy, meat and poultry farms produce large amounts of methane, a gas proven to be detrimental to the environment. That is true for both large factory farms and small local operations. Also, he said, around 95 percent of soy and corn grown ends up as animal feed. That is food humans could consume instead, resulting in less overall environmental impact.
Beyond veganism, the bus also promotes energy independence and alternative fuels. The only time the bus requires traditional diesel is during start up. After the used veggie oil heats and is thin enough to be pumped through the gas lines, the retrofitted green school bus runs entirely on the recycled oil that at one time possibly cooked your crab rangoon.
Locally, the bus gets most of its oil from Butterfly, a vegan-friendly Chinese restaurant in Hadley. While on the road, they also try to stick to Chinese restaurants for used fry oil. They have found the oil in these places to be cleaner than many other places and must avoid traditional fast food restaurants who tend to use hydrogenated oil, which clogs the fuel lines.
"It's funny that the same oil that is bad for humans is bad for the bus," said Goodwin.
The bus rolls on, most recently to the "Farm Sanctuary Hoe Down" in Watkins Glen, New York on the weekend of August 1 and 2, hoping to pick people up along the way. And if it ever happens to roll past you – trust me, you can not miss it – get on and engage. The conversation should prove enlightening. In the words of Drooker, "The bus is about the experience of being on it."